It's nearly holiday season so here are some handy tips for taking your sex toys abroad with you.
1. Remember to use the "lock off" feature if your toy has one. Most rechargeable toys have this feature (such as the Lelo Insignia), and if your toy is battery-powered consider removing the batteries so there's no danger of it vibrating in your luggage and not only embarrassing you, but wasting that precious power.
2. If you were sent a discreet carry bag for your toy, use it. Otherwise find a pretty small sized bag to hold your toys in inside your suitcase.
If your suitcase is opened by security for any reason, you can know that at least your toys are discreet and the bag has to be opened to have a peek inside rather than be blatantly led there amongst your knickers and socks on full show.
3. Do pack your handcuffs and any more adventurous toys you have. Being on holiday makes people relax, chill out and be more likely to experiment and have sex in ways they wouldn't normally if they were at home doing the usual routine.
What better time to play out that fantasy you've been having for a while?
4. If there's a do not disturb sign for your hotel door – use it! If you're having some early morning fun, the last thing you want is the Spanish cleaner letting herself in and finding you mid-session.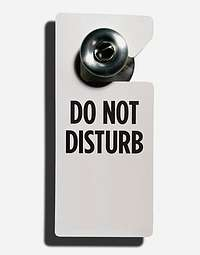 5. Don't carry lube in your hand luggage if you're flying. It's still a liquid and could be awkward when you have to show any liquid items you're carrying inside a clear bag like many airlines request you do. Lube is fine in your suitcase.
Check out my review of Yes Lube.
6. Don't freak out if your luggage is searched for any reason. For example in the US they often do random baggage checks.
Remember security have seen it all before and trained to be discreet. You're unlikely to see them again and it's not as if you've done anything wrong. They see thousands of people a day, you are just another passenger!
7. Don't forget spare batteries and a mains adapter if your toy is rechargeable. It's cheaper to take your own than buy abroad.
8. Beware of taking sex toys to Dubai. Despite being stunning and beautiful, Dubai is a very conservative country and sex toys are very frowned upon and may be confiscated if found!
Aswell as that take care with showing any sort of affection or flesh in public as it is considered illegal. Save it for the hotel room!
9. Where ever you are travelling to with your sex toys – most of all relax and have fun!
I'd love to hear any tales of travelling with your toys so feel free to leave a comment 🙂